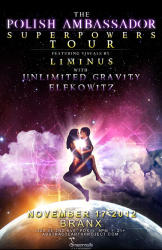 ABSTRACT EARTH PROJECT PRESENTS:
THE POLISH AMBASSADOR
Unlimited Gravity • Elfkowitz
Time: 9:00pm Day: Saturday Ages: 21+ Ages Price: $12
This Event Has Ended
It might seem strange a music venue would be hosting an important diplomat, but The Polish Ambassador is a strange figure. Claiming to hail from the far future, this one-man beat machine has come in peace bringing the joys of electronic music, live mixing intergalactically mind-bending shows that bring people of all creeds together to dance their asses off in harmony. Layered whomps, squishes, tinkles, and every other possible sound in the electro/breaks/hip-hop/dub/funk/chiptune/glitchy/IDM toolkit will be gloriously blended and served up for your enjoyment when The Polish Ambassadorcomes to town.

This tour the project has added a collaborator, Liminus, who will "be performing the visual accompaniment to my live set for the forseeable future… Liminus will also be in charge of crowd interactivity at shows. Expect to take some very unique experiences away from live shows this winter." 

It's not all fun and games either. Both the Ambassador and Liminus make their earthy home in Oakland, CA, and Liminus at least has a hand in with the Occupy Oakland folks.