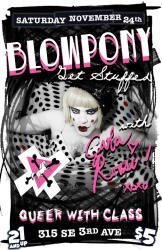 A QUEER Social
BLOW PONY
DJ's AIRICK X / JUST DAVE / STORMY ROXX / KASIO SMASHIO / + Guest DJ iLL CAMINO
Hosted + Performance from CARLA ROSSI!
Time: 9:00pm Day: Saturday Ages: 21+ Ages Price: $5
This Event Has Ended
Saturday November 24th cum GET STUFFED with our lovely and gracious Host/Performer for the evening, CARLA ROSSI! 

Stuffing you!

SMASHING and MASHING the POTATOES! 

DJ's: AIRICK X* JUST DAVE* STORMY ROXX* KASIO SMASHIO, and the return of guest DJ's *iLL CAMINO*! 

TOSSING YOUR SALAD!
HOMO GOGO's: CHARLEY SHARP* LEILA* WOLFGANGER* RAP GIRL and Guest?

SERVING YOU GRAVY!
DOOR GOB: AUSTIN DARLING* CHELZ* and JUSTIN M!
enter at 315 se 3rd Avenue or 320 Southeast 2nd Avenue

DYKES* BEARS* CUBS* CHUBS* HAWKS* COCKS* DAGGERS* CHICKEN* LIMP WRIST'ED DADDIES* FEMS* FURRY'S* GARDEN KEEPERS* NOB SHINERS* BENT FILTH* PINKY PUNKS* BUTCHY'S* QUEENS & KINGS* TRADE* 

Sponsored by: MODERN ELECTRIC STUDIO
https://www.facebook.com/modernelectricstudio?ref=hl

Carla's Photo credit: Zachary Banton
Invite design: Minklet and Airick X
Web Design: Ryan May
Installations: Gas Jaw and Xerox
<><><><><><><><><><><><><><><><><><><><><><><><><><>

BLOWPONY is wheelchair accessible through the entrance of BRANX just in the back side of Rotture. Both Rotture and Branx have Gender neutral bathrooms. If you have any questions or concerns about accessibility please contact Rotture directly or private message us on here.

<><><><><><><><><><><><><><><><><><><><><><><><><><>
BLOWPONY IS A SAFE SPACE AND RESPECTS ALL ASPECTS OF PEOPLE INCLUDING RACE, ETHNICITY, GENDER EXPRESSION, SEXUAL ORIENTATION, SOCIO-ECONOMIC BACKGROUND, BODY SHAPE, SIZE AND ABILITY, HOMOPHOBIA, TRANSPHOBIA, FATPHOBIA, DRAGPHOBIA, RACISM, FREAKPHOBIA AND SPECIESISM WILL NOT BE TOLERATED! 
<><><><><><><><><><><><><><><><><><><><><><><><><><>

21 and up Queer dance / social, $5 to ride
315 se 3rd Avenue or 320 Southeast 2nd Avenue

Facebook Fan Page
https://www.facebook.com/pages/Blowpony/185982224757470?ref=hl

www.blowpony.com

B E N T 4 L I F E 
H A R D D I S C O 4 H A R D H O M O S !