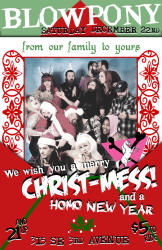 A QUEER Social
BLOW PONY: CHRIST-MESS!
DJ's AIRICK X, JUST DAVE, G-LUVE, STORMY ROXX, KASIO SMASHIO, RHIENNA, and special guest from SF TACO TUESDAY!
HOMO GOGO's Charley Sharp, Rap Girl, Wolfganger and Leilah
Time: 9:00pm Day: Saturday Ages: All Ages / Bar with ID Price: $5
This Event Has Ended
Saturday December 22nd From our QUEER FAMILY to your's have a Jolly Gay ol CHRIST-MESS! 
with surprise out of town guest?

Naughty & Nice-
DJ's 

AIRICK X* JUST DAVE* G-LUVE* STORMY* KASIO SMASHIO* RHIENNA* and special out of town guest DJ fro SF *TACO TUESDAY*

Opening and showing their packages!-
HOMO GOGO's
CHARLEY SHARP* LEILAH* RAP GIRL* and WOLFGANGER!

Helping you into Santa's lap-
DOOR GOB
AUSTIN DARLING* CHELZ & JUSTIN M.

A very special Santa photo booth with the jolly ol bloke herself! 

<><><><><><><><><><><><><><><><><><><><><><><><><><>
BEARS* BARBIES* DYKES* DAGGERS* HAWKS* COCKS* CHICKEN* PIGS* CUBS* CHUBS* CHASERS* TRANS* FURRIES* FEMMES* DADDIES* TOPS* BOTTOMS* KNOB SHINERS* TRANNY'S* GARDEN KEEPERS* SHIRT LIFTERS* SCUM LICKERS* PILLOW BITERS* FAGGOTS* HAGS* FATTIES* TRANNY'S* SISSIES* BUTCHIES* QUEENS* KINGS* PINKY PUNKS* FERALS* HUSTLERS* TRADE* BENT FILTH* BISEXUALS* BUCKET F*CKERS* HOMOS* CRAP STABBERS and a hard hand gob of YOU!
<><><><><><><><><><><><><><><><><><><><><><><><><><>

BLOWPONY is wheelchair accessible through the entrance of BRANX just in the back side of Rotture. Both Rotture and Branx have Gender neutral bathrooms. If you have any questions or concerns about accessibility please contact Rotture directly or private message us on here.

<><><><><><><><><><><><><><><><><><><><><><><><><><>
BLOWPONY IS A SAFE SPACE AND RESPECTS ALL ASPECTS OF PEOPLE INCLUDING RACE, ETHNICITY, GENDER EXPRESSION, SEXUAL ORIENTATION, SOCIO-ECONOMIC BACKGROUND, BODY SHAPE, SIZE AND ABILITY, HOMOPHOBIA, TRANSPHOBIA, FATPHOBIA, DRAGPHOBIA, RACISM, FREAKPHOBIA AND SPECIESISM WILL NOT BE TOLERATED! 
<><><><><><><><><><><><><><><><><><><><><><><><><><>


$5 to ride on Santa's sleigh! 
Rotture & Branx 315 SE 3rd avenue 

HARD DISCO 4 HARD HOMO's!