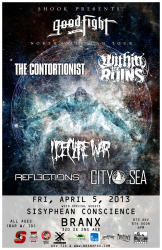 Kingbanana Presents:
THE CONTORTIONIST ***TICKETS WILL BE AVAILABLE AT THE DOOR***
WITHIN THE RUINS, I DECLARE WAR,
REFLECTIONS, CITY IN THE SEA, & SISYPHEAN CONSCIENCE
Time: 6:00pm Day: Friday Ages: All Ages
This Event Has Ended
The Contortionist
There are two artists called The Contortionist. 1) A
progressive deathcore
band from Indianapolis: Bottom heavy open chords that resonate strong enough to shake the core of the earth. Skyrocketing bursts of oscillating guitar leads layer an ominous and dark undercurrent of rhythm. While hardcore punk may be the sound that rules the day in The Contortionist hometown of Indianapolis, it is the band's signature brand of forward thinking heavy metal that has made them…
Within The Ruins

Recognizing the talent and passion of Massachusetts natives, WITHIN THE RUINS, it's no wonder Victory Records added them to its growing roster. This quintet is armed with a unique take on blending technology and metal together to write music that sets their band apart from the numerous metal bands today. WITHIN THE RUINS have mastered their technique of bringing breakdowns, riffs, tempo and a dash of personality together in order to form one cohesive entity.

…
I Declare War

I Declare War is a deathcore band from Seattle, Washington currently signed with Artery Recordings and have four full-length albums released and even a Christmas special EP. Jamie Hanks- Vocals
Gordon McPherson - Bass
John Winters - Guitar
Colin Bradford - Drums Former members:
Christopher Fugate - Guitar
Evan Hughes - Guitar
Ryan Cox - Drums
Brent Eaton:Bass
Zack Ring: Bass
Randy Carpenter:Drums
Jake Paulson:Guitars

Reflections
1. Reflections is a metal band from the Twin Cities Minnesota. Reflections consists of Jake Foster : Vocals
Patrick Somoulay : Guitar
Charles Caswell : Guitar
Francis Xayana : Bass
Cam Murray : Drums Their debut album The Fantasy Effect will be released April 28th 2012
www.facebook.com/ReflectionsMN
2. Reflections is a hardcore band from Lima, Peru.
They released a "Demo EP" in 2011 and now they are currently…
City By The Sea
Sisyphean Conscience

Sisyphean Conscience brings a new face and a new name to Portland's flourishing tech metal game. With their eyes set on success, these ambitious childhood fiends intended to stop at nothing to accomplish their goals as they attempt to make their mark on metal. Combining catchy melodies and epic harmonies with heavy grooves and crushing brutality, Sisyphean Conscience compliments many aspects of metal, forming them into a unique sound that can't be described as anything but their own.